Featured photo by Paweł Czerwiński on Unsplash.
---
Something big is going down in India's coal sector. The Central government, through The Mineral Laws (Amendment) Ordinance, 2020 laid on the table of the 2020 Budget Session, has opened up the previously protected public sector to private companies and investors. As the government would say, amidst a slew of FDI reforms in the sector over the past year, this move signals that "India Means Business." What this really means for the coal sector though, is that private owners or lessees of coal mines can not only mine coal now, but sell or use it as they desire.
FDI Policy gets a major boost: Govt. reforms FDI norms in various sectors including single-brand retail, contract manufacturing and coal mining etc.

It will boost exports, promote Make in India and create massive job opportunities. #IndiaMeansBusinesshttps://t.co/pypBPY7JBB pic.twitter.com/bsBJAR3Z9Y

— Piyush Goyal (@PiyushGoyal) August 28, 2019
Why is this significant? It upends the monopoly held by India's biggest producer and supplier of coal right now, the state-owned Coal India Limited (CIL). CIL has been failing to keep up with the nation-wide demand for coal for a while now, forcing the government to import significant amounts of the mineral. As the private sector enters the picture, Union Coal and Mines Minister Pralhad Joshi hopes that eventually, production will increase to the extent that we won't have to import coal at all. The dream is to bring coal imports down to zero in the next five years. If we can do this, well, that's great, especially considering that much of India's electricity (around 72%) is derived from power plants fueled by coal.
You May Also Like: From Japan, With Love
However, coal energy is dirty stuff — it's polluting, and its mining can be extremely harmful to the environment. Adding private players to the mix could only make things worse by increasing our dependence on coal energy. What's more, as the world pushes towards renewable energy, shouldn't India be doing the same? These are probably some of the questions popping up in your head right now.
In this month's On the Fence, we break down the complexities of one of the country's most crucial sectors (seriously, try and imagine living without electricity.) Technically, this isn't the first time the government has opened up the coal sector to private interests to boost production. So what's different this time around? More importantly, if private companies enter the coalfields now, could they be sounding the death knell for not only sustainable mining and development, but environmental health and democracy too?
Click on a quote to read an opinion
"Private players have partaken in coal mining (in some measure) for over a decade now. This time around, the Mineral Laws (Amendment) Ordinance 2020 allows these commercial players or MDOs, as well as other investors, to procure the mine on lease and sell the product to any retail or long-term end-user. This is the main difference."
— Soundaram Ramanathan
"The quality of coal being used matters. As a result, the current ordinance may actually do very little to reduce the environmental impact of coal burning. For that to happen, we need to start pushing for cleaner coal. That's not an oxymoron: the 'clean-ness' of coal lies on a spectrum, and we definitely can at least be cleaner."
—

Dr. Rahul Tongia
Chirag Chinnappa (CC): In terms of India's coal reserves, what context does this Ordinance fit within? Is 'privatisation' even a new phenomenon in India's coal manufacturing process?
Soundaram Ramanathan (SR): Coal enjoys a special mineral status in India, much like gold or diamond. Although it may seem more abundant, coal is expected to last only for another three to four generations for use as a fuel. Understandably, the Indian government's overarching policy has always been to protect its reserves.
| | | |
| --- | --- | --- |
| Agency | Coal Reserves in India | Depth at which it is found |
| Ministry of Coal | ~125 billion tonnes (bt) | "proved reserves" up to 1200 meters (m) |
| Independent International Agencies | ~60-80 bt | up to 300 m, the depth of mines in India currently |
Table 1: Coal reserves in India remains a debate | Source: Rich Lands Poor People: Is 'Sustainable' Mining Possible? (CSE, 2020)
Post-independence, our government's conservation strategy was to mine using its own arms – that is, through Coal India Limited (CIL). CIL mostly relied on skilled and unskilled workers to mine coal, which left productivity at 0.5 tonnes per man-year for underground mines and 15 tonnes per man-year in open-cast mines. This rate of coal production was insufficient to meet India's infrastructural requirements. The government also knew that productivity could reach up to 5 tonnes per man-year by introducing mechanisation in techniques like longwall mining. These figures could touch 30 tonnes per man-year in open-cast mines. 
But, longwall mining demanded investments to the tune of ₹1,000-1,500 Cr in order to produce 10 million tonnes per annum (MTPA) of coal, develop technical expertise for underground mines, and to mitigate the fallout of scaling down the CIL's manpower. These stiff trade-offs pushed the government to allow private investors into the sector, albeit via captive mining contracts. Here, an owner or lessee of a coal mine (like a Reliance Sasan) can mine coal for a given purpose (say, power generation), but they could not use or sell the coal for other utilities. This clause intended to conserve the mineral that was vital to the country's development story.
Unfortunately, this strategy of attracting private investments was unsuccessful . By the 2000s, the power sector, which is the largest consumer of coal, had inked long-term agreements with Coal India Ltd., leaving little for private players to feed on.
 

Total Coal in million tonnes (mt)

2011-12
2016-17
2021-22

731

981

1373

Power

540

738

1017

Sponge Iron, Steel and other metals

97

118

185

Cement

32

47

78

Others

61

77

92
Table 2: Coal and its percentage demand in various sectors. The power sector accounts for 75% of the total coal consumption in the country. Source: Heat on Power (CSE 2015)
Irregularities in allotment hindered the development of captive mining. For the few who procured tenders, developing captive mines was a challenge because it required companies to deviate from their original business portfolios.
For example, a company that produced steel would have to diverge resources from its original business to mine coal. Eventually, this led to a secondary tier of mine developers and operators (MDOs). Private companies engaged these MDOs through bilateral contracts wherein MDOs would develop, operate and hand over mines to the owner for a particular fee. 
So, you can see that private players partook in coal mining (in some measure) for over a decade now. This time around, the Mineral Laws (Amendment) Ordinance 2020 allows these commercial players or MDOs, as well as other investors, to procure the mine on lease and sell the product to any retail or long-term end-user. This is the main difference.
CC: If the lure of captive mining has not attracted sufficient private investments, where is the potential to attract players with this Ordinance?
SR: In all honesty, it is difficult to answer your question with conviction. Coal production is an expensive process depending on the method of mining adopted. The price at which coal sells also varies, depending on the quality and calorific value of the mined product. About 50% of CIL's total production comes from 15 mines (all open-cast), which together produce ~279 MTPA of coal. The remaining 452 underground mines produce only 274 MTPA, averaging at approximately 0.60 MTPA per mine. As per my estimates, an investment of ~₹27,400 – ₹41,100 crores would be required to maintain the current levels of production and mechanisation. Manpower accounts for 40-50% of the running costs in a coal mine. By mechanisation, this cost can be significantly cut and the coal industry could become a profitable venture (see Graph). World over, investors are steering clear of coal. Beyond the legislation being brought in, more sops and a friendly regulatory mechanism would be required to attract investors.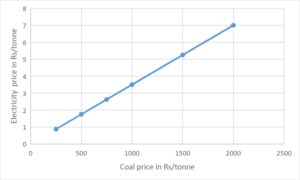 CC: What do you make of the Ordinance's environmental impact?
SR: CIL's coal mining operations are already a source of widespread pollution. Coal mining districts which were classified critically polluted by the Central Pollution Control Board – such as Angul, Chandrapur, Dhanbad, Jharsuguda, Korba, Ramgarh, Singrauli, Sonbhadra – were districts where Coal India Ltd. has extensive operations. 
A notable example of its long history of serious environmental violations being the Karanpura coalfields in Jharkhand, where CIL's Central Coalfields Limited subsidiary is active. Over the decades, tonnes of coal waste was dumped into the Damodar River every monsoon. In 2012, the Jharkhand High Court ordered the removal of coal waste dumps of CIL's Purnadih mines which were polluting the river.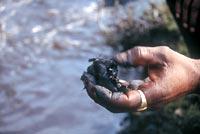 A CAG Performance Audit in 2011 noted a lack of proper effluent treatment plants (ETP) and sewage treatment plants (STP). Out of 18 open-cast mines that were audited, two did not have ETPs and four did not have STPs. Two mines (Jarangdih of CCL and Jamuna of SECL) did not have OGTs and two mines (Lajkura and Samaleshwari of MCL) had inadequate capacity installed to trap used oil and grease produced in the workshop.
CC: So what can change with private players coming in?
SR: Up until 2010, 40% of CIL's coal mines were in operation without environmental clearances, as they belong to the pre-independence period. After this was revealed, CIL went in for post facto clearances for all 190 of these pre-independence era coal mines [1].  However, it remains to be seen if they are merely a PR exercise.  The latest CAG reported a number of recent similar violations in 2018. 
Now, if mining transfers to the hands of private entrepreneurs, it could give regulators more leeway to curtail environmental damage and pollution. The transfer of hands won't be easy, however. There are social costs to private investment and mechanisation: coal mines alone employ almost three lakh people. Most of these are male employees, and the thought of relocating so many poor families might deter the government from issuing private tenders en masse.
That being said, with fair competition, if private investments come in big valuations that ensure scalability of production, it may tempt the government to prioritize investing more resources into renewable forms of energy generation.
Soundaram Ramanathan is a researcher with the Sustainable Industrialisation unite at the Centre for Science and Environment, New Delhi. Her research focuses on industrial pollution, coal, and coal-based thermal power plants. 
---
December 2011, Environmental Clearance for 218 Coal Mines Under Different Stages of Approval , Ministry of Coal, Press information Bureau, New Delhi retrieved from http://pib.nic.in/newsite/erelease.aspx?relid=78503
Aarathi Ganesan (AG): In 2014, Modi pledged to quadruple RE generation in India by 2022, and in 2016 he also spearheaded the International Solar Alliance. RE and shifting towards relatively environmentally friendly technologies is a government priority. However, the government's move could also have to do with Coal India's potential inability to produce a targeted one billion tonnes of coal by 2023-2024. Does this mark a lighter commitment towards RE goals, or do you see a more long-term energy use plan in mind? Could it impact India's fledgling solar sector?
Rahul Tongia (RT): Before asking if coal will hurt the fledgling solar industry, it would be better to ask why the solar industry is fledgling in the first place. Is it because of the might of coal? I don't think so. It would be better for us to look inward to understand the renewable industry, and the manufacturing problems that come with it in India.
Farmers who have fallow or barren land will be helped to set up solar power generation units and also sell surplus power to the solar grid and also make living out of even barren land: Finance Minister Ms @nsitharaman.#BudgetWithFICCI #BudgetSession2020 pic.twitter.com/7Qoc3xPku0

— FICCI (@ficci_india) February 1, 2020
Now, when it comes to the government's commitment to RE, it's important to understand that almost all renewables, including the government targets, are low hanging fruits of variable renewable energy (VRE). So, when the sun is out, you can tap those sources. Still, you will need to use something else at night time. 
In India, coal is that something else. Even if the infrastructure and uptake of renewable energy are improved in the short term, it does not displace the capacity of coal. Instead, it displaces energy generation. Energy generation, to a large extent via coal plants, is still required in the evening, when the pressure on electricity grids is the highest. So, the two can be used in complementary ways without downplaying the government's commitment to renewable energy. The 'conflict' between renewable energy and coal isn't as black and white as it is made out to be, 
Remember that a big chunk of the government's focus is on avoiding expensive imports. India imports a fair amount of coal, which shows that Coal India (and the peripheral system) has failed to deliver according to consumer demand. Additionally, when you look at the comparative price points, although imported coal is attractive in some locations, Indian coal is cheaper, albeit not of the best quality. So, consumers would prefer Indian coal. Therefore, opening up the commercial sector won't necessarily change how much coal you use; instead, especially to start with, it will simply change the source of the coal. Gauging the government's commitment to renewables off of this ordinance alone is a more complex task, one that requires taking into account environmental, fiscal, and administrative considerations. 
AG: As a developing country, India will have to balance its RE goals against its need for economic growth. What steps can be taken in the long-term to make our energy system more efficient, and one that can exist in co-dependence with RE sources?
RT: First, we need reasonable and enforceable environmental standards. For example, we have higher standards on coal power plant emissions as notified by the MoEF&CC in 2015, which were supposed to come into force in 2017.
But instead of enforcing them, an extension to implement them has been provided by the government until 2022. So, actually following through on existing best practices is a starting point. As a country, I think we have the capability to do that. 
Now, the best way to use less carbon is to be more efficient, right from generation to end-use consumption appliances. India has lagged with improving efficiency for several reasons, despite its reduction of operation costs. One reason for this is the capital-intensive nature of the industry. Now, if we really wanted to be cheap, we could just remove all pollution control equipment from all fossil fuel production and consumption! Nobody would want such a world, right? So, it is necessary to keep the right financial instruments in place to make such cost-increases manageable. We need to start incentivising energy efficiency and better compliance. Consumers also need more choices and affordable efficient appliances – five-star energy rated appliances shouldn't just be premium products. 
AG: As the coal market in India widens and becomes more competitive, how can serious environmental externalities be best mitigated?
RT: There are more subtle trade-offs than just 'environment vs. development'. For example, more domestic production by private players doesn't change how much coal is being consumed, it just changes where it comes from.  
Now, mining certainly has its own negative externalities for local communities, but in theory, those processes and industries should be well regulated and controlled for. That this isn't being done as it should be, is a different issue. There are governance failures within the coal industry, however, that does not mean that these externalities are intrinsic to the operations of the industry itself.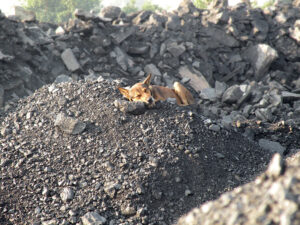 The larger issue is that Indian coal is quite poor when it comes to quality, as it produces large amounts of ash as a by-product. On the other hand, imported coal, depending on the source, produces relatively less ash. Better quality imported coal may have a higher energy content per kilotonne, so the net local air pollutant emissions produced while generating a certain amount of energy could also decrease as a result.
The point is: the quality of coal being used matters. As a result, the current ordinance may actually do very little to reduce the environmental impact of coal burning. For that to happen, we need to start pushing for cleaner coal. That's not an oxymoron: the 'clean-ness' of coal lies on a spectrum, and we definitely can at least be cleaner. 
If you look at coal mining in India, 95% is open-cast strip mining. This process, by definition, creates disruptions to the local environment. You have to remove land (or the 'overburden'), set it aside, extract the coal, and then, in theory, restore the land that's been stripped. There have been some improvements in this process, wherein satellite imagery is now used to check restoration of an area. Yet, I believe that the general problem plaguing energy generation in India is that we are so enamored with 'cheaper, cheaper, cheaper', that we lose sight of 'better'.
Rahul Tongia is a Fellow with Brookings India, based out of New Delhi. His work focuses on technology and policy, especially for sustainable development. He is also an Adjunct Professor at Carnegie Mellon University, and was the founding Technical Advisor for the Government of India's Smart Grid Task Force.