Written by Sarah Berry,
India is home to one out of every six people in the world. In a short span of 40 years, the country's population has doubled in size and is just a couple of decades short of overtaking China as the world's most populated country. Interestingly, with over 356 million residents from the 10-24 age group, India has the world's largest youth population. India's immense population density, coupled with a diverse demographic dividend, makes the country a large reservoir for human capital that is yet to be realized; especially the youth.
Over the world, the involvement of youth in matters of policy has seen considerable acceleration, be it amongst common youth or global icons like Greta Thunberg, Malala Yousafzai, Emma Gonzalez, and many others. The understanding and resolution of global, regional and national challenges is a vital issue for which youth actively engage themselves, and partake in designing solutions at diverse levels. 
In a country as diverse as India, multilateral challenges need multilateral solutions of which public policy serves as a vital component. The study of public policy has seen drastic changes thanks to the emergence of this subject also as an active career option. It involves an amalgamation of theoretical rigour with experiential learning that enables scholars to apply the matter learnt on the ground level. This, in turn, is essential for the designing of customized solutions and the efficient implementation thereof. 
Echoing these sentiments,  Luis Miranda, Chairman for Centre for Civil Society states that, "Public policy training should help minimize unintended consequences. It should combine theory with problem-solving experiences that are localised for India. Some of these components include skills (like communication), analytical tools to understand the trade-off between economic deficiency and what is implementable, the role of ethics and leadership, and contextualising policy in its historical legacy."
Students hold diverse expectations from a public policy course. Essentially the curriculum should not only support them with tools that can come in handy during the implementation of experiences gathered and the knowledge accrued, but also help them hone their soft skills. Nilay Wankhade, a public policy scholar explains, "Through the course I am currently pursuing, I expect to gain skills that will help me analyse social issues from multiple perspectives. I believe that most of the social issues today can be solved with the sustainable use of technology and that these issues are interconnected—they can't be fully addressed by focusing only on the superficial aspects. A course in public policy should provide me with the skills to understand this interconnectivity, think from an overall perspective and come up with sustainable solutions." Indeed, the ability to filter large amounts of information, across disciplines, in order to facilitate its analysis for effective solution-crafting is vital for any public policymaker. 
As a career option, public policy serves as a springboard for careers that not only facilitate change implementation at various levels, but open doors in both public and private sectors. The range is kaleidoscopic: consultants, entrepreneurs, researchers, academicians, and the list goes on. It is not only the remuneration, growth, and diversity of professional options that calls, but also the empowerment to facilitate change that one wishes to see for the betterment of communities, societies and the country. 
As Arpit Chaturvedi, Coordinator of Academics, the Indian School of Public Policy points out: "Public policy, from the perspective of job opportunities, is an 'industry in the making' in India, or what one may call an 'industry' that had exited but has made its presence felt again. In fact, there are innumerable private sector organizations that are setting up public policy teams across the nation. In many cases, they have employed people at government affairs positions since decades, but it is perhaps for the first time that the private sector has access to professionals trained in public affairs. In addition to corporate houses, private consulting firms, governments at various levels, and non-profit agencies are in acute need of talent trained specializing in public policy and management."
In India, various institutes offer courses in Public Policy: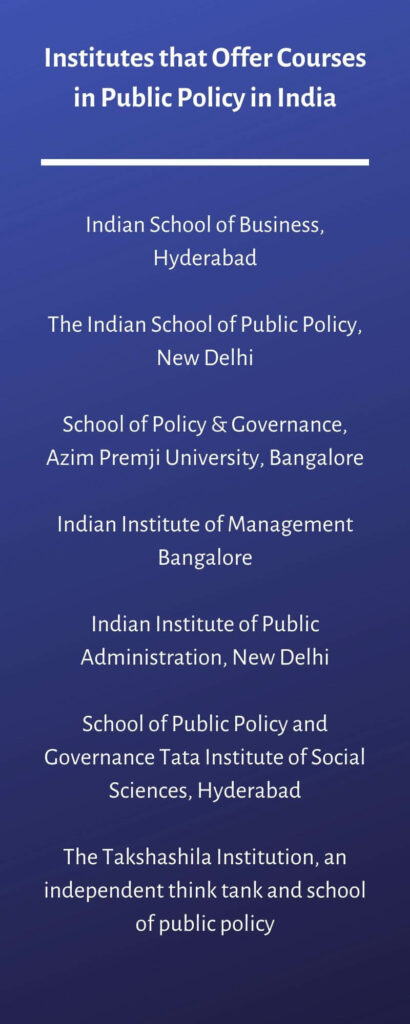 Students who undertake a course in public policy, should, ideally, be socially conscious and intellectually curious. Besides a sound general knowledge and keeping themselves abreast on the latest current affairs, the EQ should be high – good interpersonal calibre and sound intercultural intelligence are vital. The ability to not only filter large amounts of data into meaningful information for easy designing of solutions is essential. Multilateral thinking is yet another pre-requisite. Adds Wankhade: "After my course, I want to gain experience in an organization working on environmental issues with the help of technology, build a network and leverage it to take up an initiative of working in the environment and agriculture sector in the Vidarbha region, where I belong."
As Swami Vivekananda is known to have said: "All power is within you; you can do everything and anything." All that one needs is the will to change the self, and the world.